Say Yes to Success!
My passion and profession is about helping people "say yes to success" in both their personal and professional lives.
One of the most common issues clients bring to me is dissatisfaction with their work environments, coupled with a strong desire to do personally meaningful work that doesn't conflict with their values and lifestyle.
"I want a job I'm passionate about..."
"I love what I do, but I hate where I work..."
"I can't stand my co-workers..."
"I want to make use of my talents..."
"I want something more creative..."
"I need more flexibility..."
"I want to be valued and recognized for my contributions...
One of the most useful "say yes to success" tools I have found is a product called SBI. This product is one of the leading 21st century business tools, and can be used by anyone to create a more meaningful and profitable career.

SBI is a perfect success tool for anyone interested in:
Improving the quality of your work life
Making money doing what you love
Working from home
Building your own business on a limited budget
What Is It?
SBI is a simple, all-in-one package that includes everything you need to build your own website for fun and profit -
Whoa! Don't click off just yet!
It really isn't as scary or complex as you might think!
I know because I built this site with SBI, and I'm far from a techie!
I was thrilled to find SBI 3 years ago - I spent a lot of time researching the ins and outs of how to build my own website. I wanted something that was simple to learn, yet didn't lock me in a box with limited functioning down the road. I also wanted something with a lot of free hands-on help available - a place where I could get my questions answered right away!
My initial intentions were to put up a website that offered free personal development tools to people who could not afford my professional coaching and consulting services.
Was I ever surprised to find out I could actually make a living by building a free, information-only website! (Of course you can choose to sell products and services as well).
Here is one of my favorite SBI success stories:
Why I Love SBI
SBI is a simple, all-in-one package that includes everything you need to "say yes to success!" You can build and maintain a website based on your passion and knowledge, all for less than a dollar a day! That's it – no hidden costs, nothing additional to buy. Turning hobbies into cash couldn't be more affordable!
SBI provides a vast resource of online tools, ebooks, and videos, and a step-by-step process to guide you every step of the way. But the coolest things are the SBI community and SBI online forums! There is a huge network of friendly SBIers who come together to share their tips, strategies, and knowledge with the community. Best of all, SBI has a great money-back guarantee. I wouldn't have bought it if it didn't!

SBI tools are simple – there is no need to learn HTML or other complicated technical stuff. You can use the block-by-block builder to create and customize a great site, step by step with an abundance of easy-to-use tools and templates.
But SBI is not just a simple set of tools for beginners. It also offers everything you need to build your site using more advanced web design tools, HTML, and custom templates if you choose. And if you're somewhere in the middle, there are plenty of community members in the forum willing to teach non-techies like myself a few advanced moves!
I've been a member of SBI for almost 3 years, and count myself lucky to have such an incredible product available to me! I'm proud to be an affiliate of this program because I have seen the magnitude of success this product has had on ordinary people's lives.
If you're interested in building a successful website, for fun and profit, I encourage you to watch this short video, or click on any of the links I've provided below.
To say yes to success and order Solo Build It, go to the easy online order form.
Not sure? For more information and Solo Build It success stories, click on a link below, or contact me directly:
Check Out SBI Owners' Websites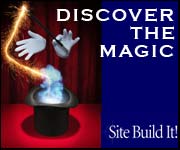 Leave Say Yes to Success

and visit
21st Century Tools for Success
Positive Change Tools for Success